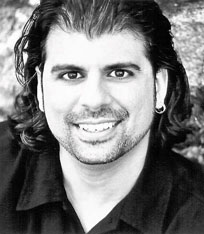 Biography
Joey Madia is a teaching-artist, writer, director, and actor. His poetry, essays, and short stories have been widely published and have earned him several awards.
He is the Artistic Director/Resident Playwright of Seven Stories Theatre Company, Inc. (which just celebrated its tenth anniversary) and Resident Playwright at Youth Stages, LLC. Although he has written several main stage musicals and dramas, he specializes in social justice theatre and participatory plays for youth. His 17 plays for young audiences have been produced across the United States and he has two plays in the Dramatic Publishing catalog.
He is the author of four books on using theatre in the classroom (The Stage Learning Series, Accompany Publishing, 2007). He has written and performed pieces about Civil War captains Louis Emilio and Thomas Maulsby and is a Chautauqua Scholar for Voices from the Earth, which does symposia and performances on the African American experience in the Civil War.
As a teaching-artist he has taught and mentored thousands of students in both theatre and creative writing and has spoken at many schools and national conferences. He has worked with organizations including The Epilepsy Foundation of NJ and Camp NOVA to bring theatre to students with disabilities and has won three writing awards from Very Special Arts of NJ. He has appeared in or directed over 100 plays and in a dozen projects on camera, including the 2014 remake of White Zombie.
His first novel, Jester-Knight, was published in February 2009 (New Mystics Enterprises). His second novel, Minor Confessions of an Angel Falling Upward was published in September 2012 (Burning Bulb Publishing). He is a book and music reviewer and the founding editor of www.newmystics.com, a literary site.