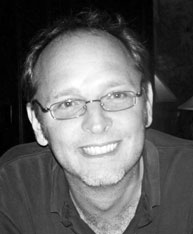 Biography
Knight Berman Jr was bitten by the theatre bug at an early age. Growing up in Alabama, both of his parents starred in and directed several plays for the local little theatre group, and Knight spent his teenaged years onstage in various school and summer productions.
While in college though, his love of music – particularly the writing and recording of it – led him into the band scene, where he fronted a few engaging rock groups and eventually found himself in Atlanta performing original compositions in many questionable bars and art galleries. Tiring of the performing side of music, he decided to focus on writing and wound up on the Jersey Shore in 2000 as a one-man studio project he called The Marble Tea.
Since then, he's released countless songs online, as well as a slew of independent EPs and singles. His debut CD, I'm Batman, was selected as CD of the Year by the IndepenDisc Music Club in 2004, and songs from it were featured in a popular children's video. Around that time, he began composing for short film (including New Mystics' 6 Reasons to Say No series) and feature-length productions such as MHz (Megahertz), which centers around eccentric inventor Nikola Tesla, and The Full Masti, the comedic tale of a Hindu dating service.